YOUR REAL TIME DASHBOARD BASED ON YOUR OWN KEY PERFORMANCE INDICATORS
When our clients develop their corporate Digital Strategy on Google with us, we know they need to follow up the evolution of their KPIs and their ads as well as to measure the overall performance and its ROI.
Our major goal is to ensure that our clients understand how their campaigns operate and perform form the inside. Our road to success is teamwork. We are our clients' strategic partner, so their corporate project becomes ours.
To that end, we develop a personalised and exclusive dashboard with access 24/7 and real time data. By doing so, clients can check the latest updates to translate them into market information.
Our key objective is to make sure our clients understand their campaigns form the inside, so they can translate performance gauges into valuable market data.
We design a tailored tool for each of our clients so as to measure their business' strategic data in real time.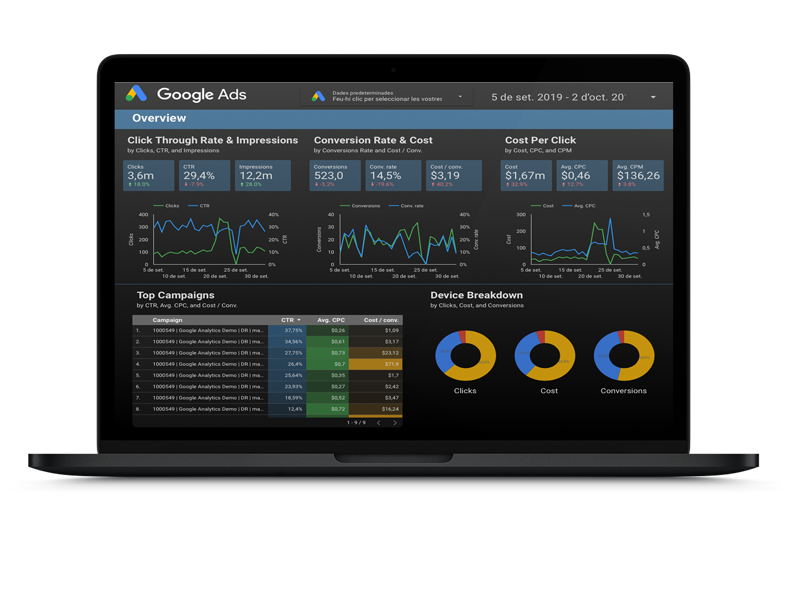 The data generated with our campaigns is highly valuable to our clients, becoming their most precise market research tool.
We unlock the powerful meaning of data by delivering easily readable control panels to inspire intelligent business decisions.
Real examples of the power of data
By microtargeting, we were able to give our client a ranking of the best keymessages so they could record a solid TV Spot based upon real research in the context of a SEM campaign.
The top-ranked messages were the ones with more clic rates within the chosen representative audiences.
NEW OPPORTUNITY,

NEW COUNTRY
While developing an ordinary campaign deployed over a new country where the client wasn't established, we succeeded in providing a chart with the most relevant hot spots. Months later, the client opened an office as an embryo of a future branch. 3 years later in the new country the client is making it.

RETHINKING

COMMERCIAL ROADS
After one of our maps, a client adjusted its commercial roads. New roads, rethinking the old ones. Furthermore, we coordinated ourselves with the client so as to impact our client's customer purchasing headquarter with the most relevant ads, 48h before the agent of our client visited them.

DO WE HAVE POTENTIAL CUSTOMERS IN 

OUR MAIN COMPETITOR'S EVENT?
With a complex setup, made of several campaigns which gave feedback to each other, we were able to counterprogram the new product launch campaign of a client's competitor. Two weeks later, we were able to deliver a document with enough non-personal data for the client to work out with his knowledge which of the customers were actually interested in the product.